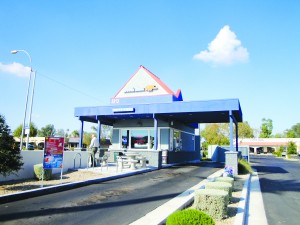 Stacie Spring/Tribune
Dutch Bros.
Local owners of the Dutch Bros. family of drive-thru coffee kiosks say that with eight stores in Arizona already — including three in Tempe and one each in Gilbert and Mesa, and another three to open in 2012 — the local incarnate of the Oregon-based brand will not be slowed. (Stacie Spring/Tribune)
Posted: Saturday, February 8, 2014 9:00 pm
Dutch Bros. to benefit UFB with Valentine's Day offer Tribune East Valley Tribune
Dutch Bros. Coffee locations in the Valley will offer customers who donate three nonperishable food items on Valentine's Day a $1 16-oz. drink.
As part of an annual company-wide event, Dutch Bros. locations in Mesa, Gilbert, Tempe and the rest of the Valley will collect the food items to benefit the United Food Bank. Last year's event led to the accumulation of 12,844 pounds of food in the greater Phoenix area and 205,322 pounds at all Dutch Bros. locations.
"One of the most rewarding things about Dutch Bros. is giving back to our community," said Phoenix-area owner Jim Thompson in a press release. "We try to assist as many people as possible with our givebacks, and Dutch Luv Day is a true representation of that."
Posted in Mesa, Gilbert, Tempe, Chandler, Local businesses, Local, Money on Saturday, February 8, 2014 9:00 pm.